Post by Penguin45 on Dec 20, 2014 0:48:20 GMT
Most of us will be familiar with, or may even own the grease gun-type pump now commonly available for around £50 to inflate our suspension. Indeed, I have had one myself for a few years now. I can't say that it has been an entirely satisafctory experience. It has been used perhaps ten times, by myself and one or two other people, including forum member Snoopy11. First failure was the nylon flexible hose - Snoopy was kind enough to make up a proper replacement. Then the guage failed as well.
My latest attempt to use it was to inflate the suspension on the Austin, which it simply wouldn't do. All pumping pressure was lost as soon as a small amount of pressure was present in the system. Presumably the seals had failed in the rather cheap grease gun.
Thinking about it, I realised that I was also rather frustrated with the 2cc injection per stroke which the grease gun delivered as well. From empty, you're pumping for a very long time indeed. Not good when you're as physically unfit as I am at the moment. An evenings' Googling led me to a site in Germany - Sanpro. They make
THIS
. As far as I can tell, it's really meant for pressure testing plumbing installations for new-build properties. From our point of view, it holds a bucketful of fluid, can generate 50 bar (720psi) of pressure and delivers 45cc of fluid per stroke.
I bought one.

It was delivered from Germany in three days. It comes with a substantial delivery hose with ½" fittings. Yesterday, I managed to make enough time to pop down to
PIRTEK
in Leeds. They rattled up an adaptor to join Snoopy's hose to the output hose for an exceedingly reasonable £15, whilst I waited.
And this evening, it blew up the o/s suspension in about 15 strokes. I was rather pleased.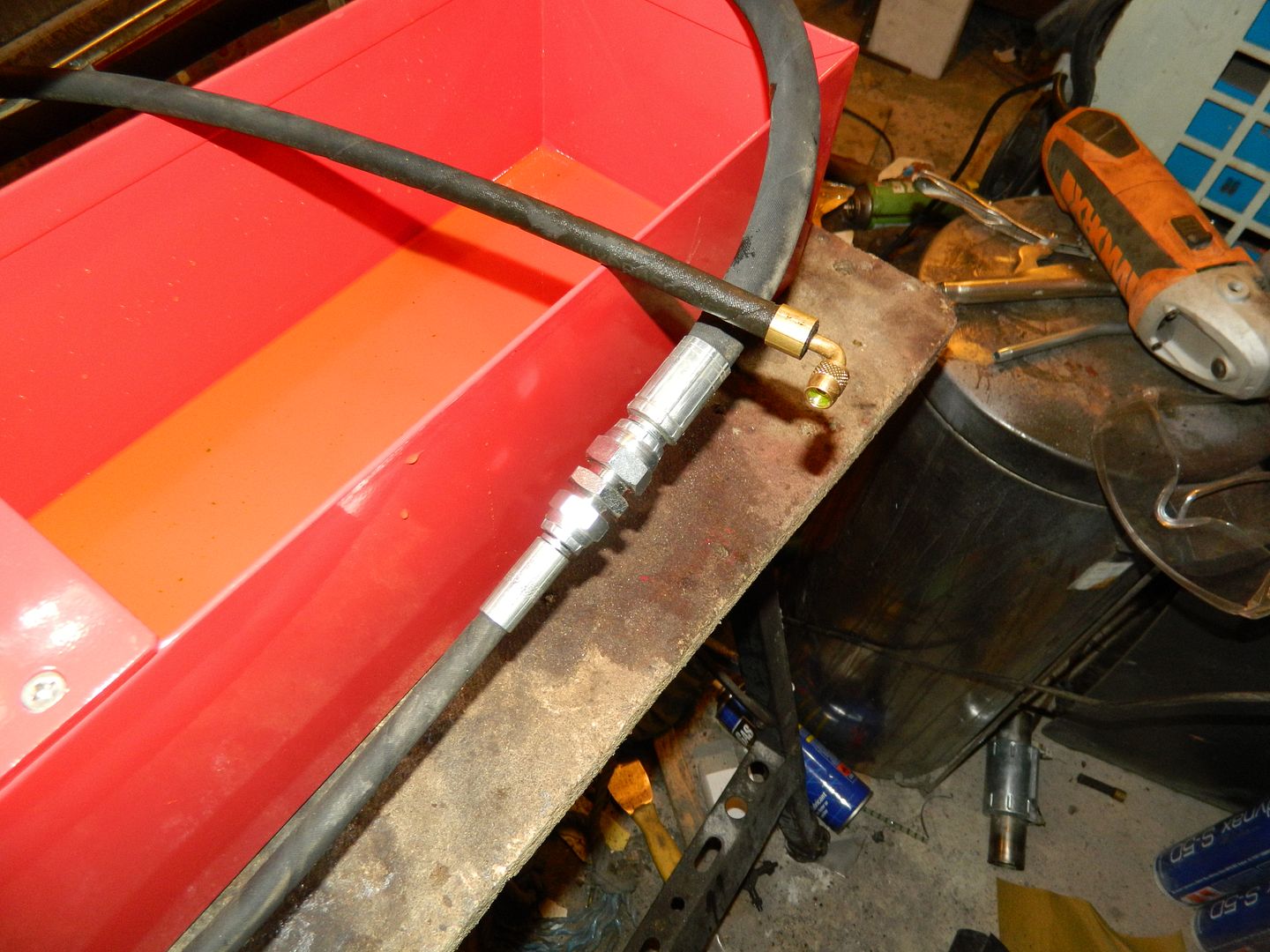 Third picture shows the adaptors joining up the hoses.
So - about £70 for the pump, £12 to ship it over from Germany and £15 to sort the hoses out comes to £97 and I reckon that's a bargain for a piece of kit which really works.
Chris.